Record producer who claims to have helped Peruzzi before he got recognized, accuses him of betrayal | Releases audio proof to show that Peruzzi owns the song, "FIA"
---
---
Nigerian Singer, Peruzzi is trending on twitter after he was called out by a record producer who claimed the singer defaulted on the contract he previously signed with his label
King Patrick, the record producer, claimed to have helped Peruzzi go back to medical school and signed him to his record label.
According to King Patrick, he met Peruzzi in 2014 after he dropped out of medical school because of his father's financial problems.
He also claimed that he paid for Peruzzi to go back to school.
"I paid for his ticket and visa, he was like a brother to me." he wrote
However, he noticed Peruzzi was more interested in his musical career than in his studies so he set him up in the entertainment industry.
He wrote: "He was more interested in music, so my investment in his education was a failed project but I still decided to support his music career. I clothed him, fed him and gave him allowances, I also made sure he had comfortable accommodation.
"I had another artist called "BONDO KRAZZY" who peruzzi moved in with. There he worked on his music, while waiting for me to sign him by November 2016, as I had promised."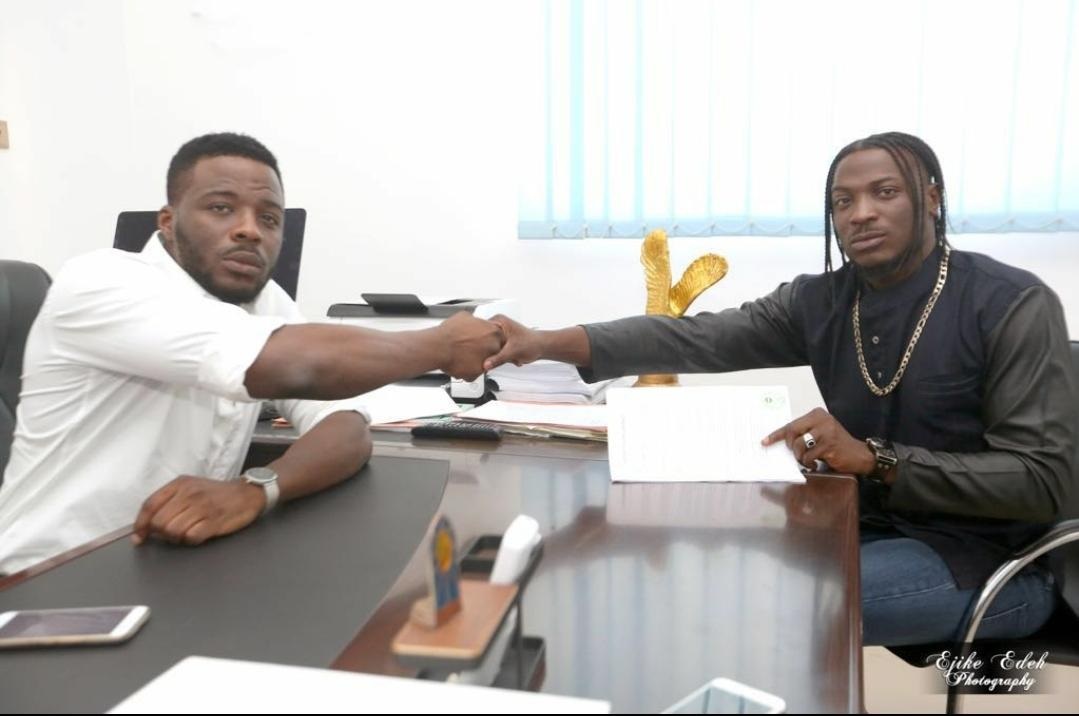 According to King Patrick, he eventually signed Peruzzi and they moved to Lagos. He allegedly got him a 5-bedroom accommodation in Lagos then shot 3 music videos for him.
One of the videos was released and it caught Davido's attention.
This is where problem started as Peruzzi allegedly signed with Davido's DMW without telling Patrick and without respect for the contract he already signed with Patrick.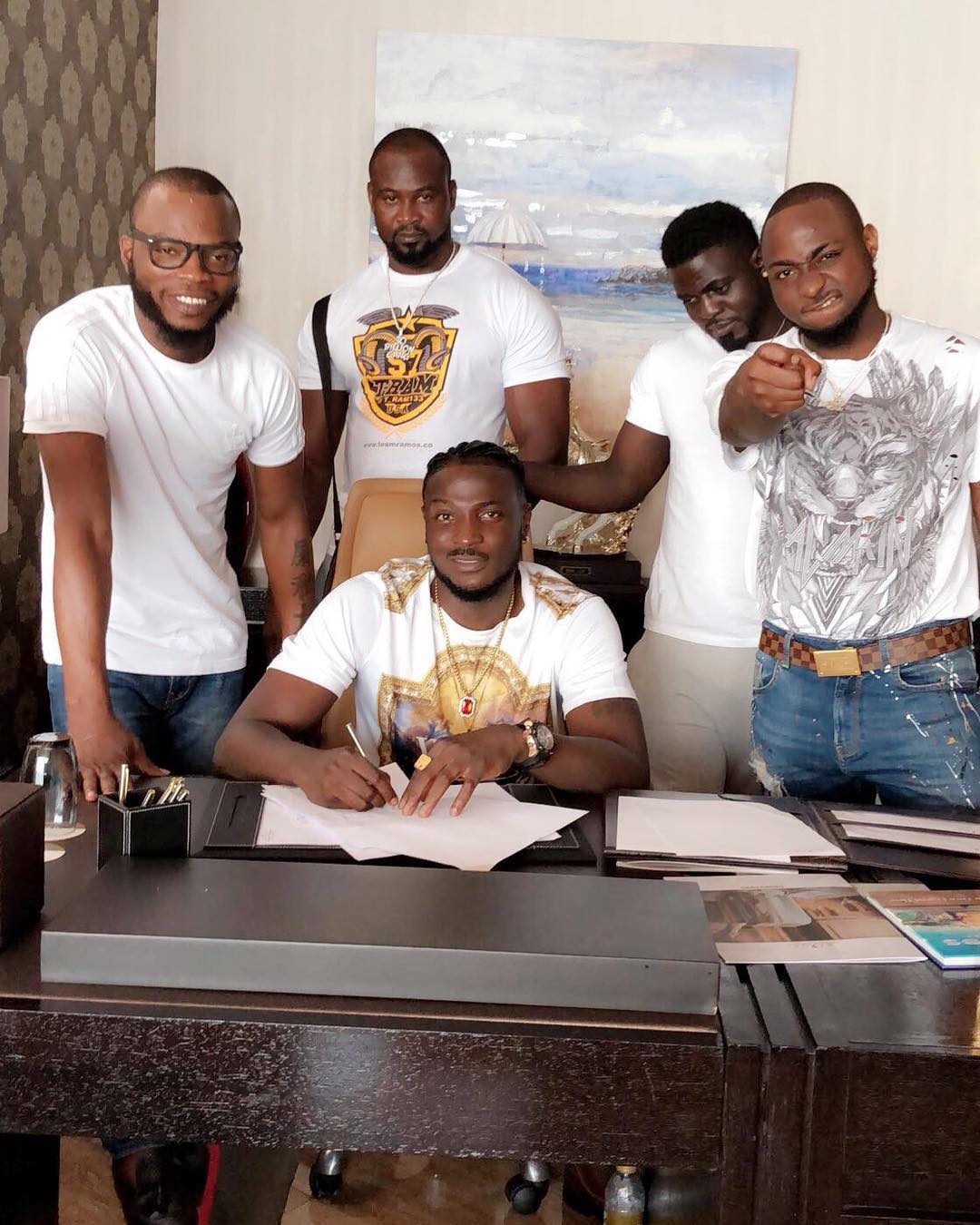 Patrick wrote: "I bought Peruzzi's ticket to meet Davido for the performance, but instead of performing he got signed to DMW, without my consent, therefore breaching his contract.
"I woke up to the news of the signing and I was mad and that marked the beginning of my depression. If only you know how it feels to be cheated by someone you truly loved and supported with all your heart."
He concluded his thread, writing: "I have been patient for 2 Years and @davido or @Peruzzi_VIBES have refused to pay me despite all my efforts. I had to bring this issue here because e Don reach. Peruzzi needs to be exposed! It's been a depressing 2 years! And I can't hold it in any longer #SurvivingPeruzzi.
"@Davido knew peruzzi was signed to Goldenboy yet he went ahead to "Audio Sign" Peruzzi without following due process. I reached out to him, look what a so called boss had to say in my dm. Fact: @Peruzzi_VIBES is not Signed to DMW."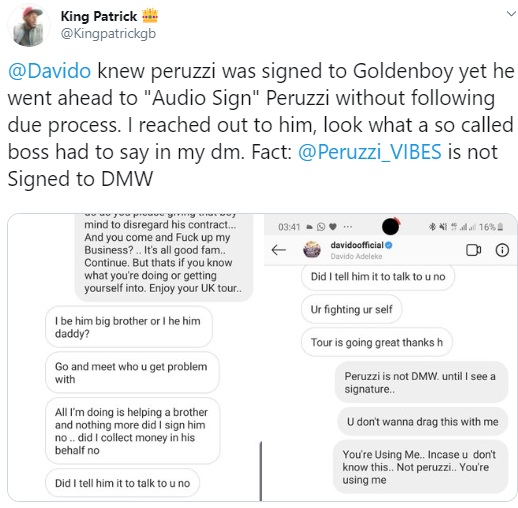 However,
Record Producer, King Patrick who called out Davido and Peruzzi earlier yesterday, has released an audio of the track FIA, which he claims was written and originally recorded by Peruzzi for his record label, Goldenboy.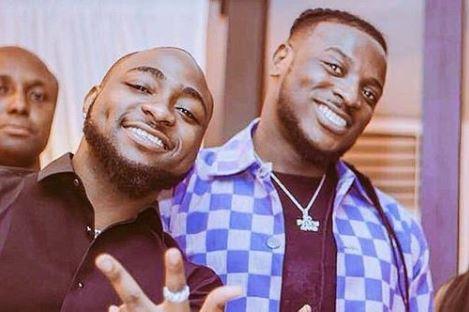 He also claims songs like, Ada, Mind and Risky were all recorded by Peruzzi for GoldenBoy Entertainment.
Here's what he wrote; "Just to clear the air, Davido Owes Me as Much as Peruzzi does. Fact – the song FIA, Ada, Mind, Risky were recorded by Peruzzi for Goldenboy and are all Owned by Goldenboy… DAVID NEVER PAID ME, instead he took me off royalties. Listen! #SurvivingPeruzzi"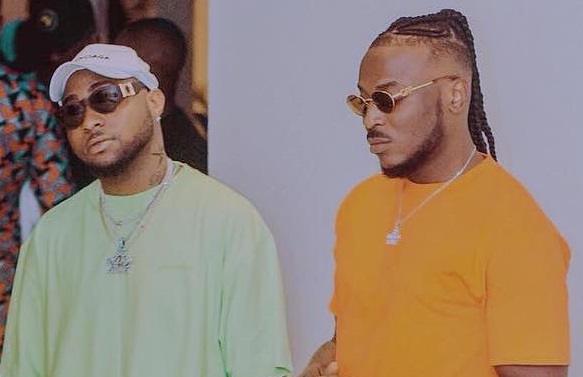 Listen to the audio below;
Some reactions;
samastron: This year came from Zee world. Too much drama!!
michelletito21: It's not new that Davido buys all his songs voice ain't loyal
itsurboyemma: Forget the fight,, Peruzzi get talent sha,,, he owns the number song in Africa and we nor know since
heis_farouq: D song no sweet for perruzzi mouth. It's sweeter in David's mouth
hituhnuchic: The only difference in the song is that Peruzzi didn't add SHEKPE
2muchbar: This guy is just a fool. After insulting davido oya now come and collect royalties. Ode! Shi shi he won't see to collect
___salomi: I swear it's been a long time since I knew Peruzzi is the new Davido.. Chaii
---
---