Nigerians drag Teddy A for wearing Airpods at his introduction ceremony
---
---
Nigerians on social media have reacted to how former Big Brother Naija housemate, Teddy A, had AirPods on during his traditional engagement with Bam Bam.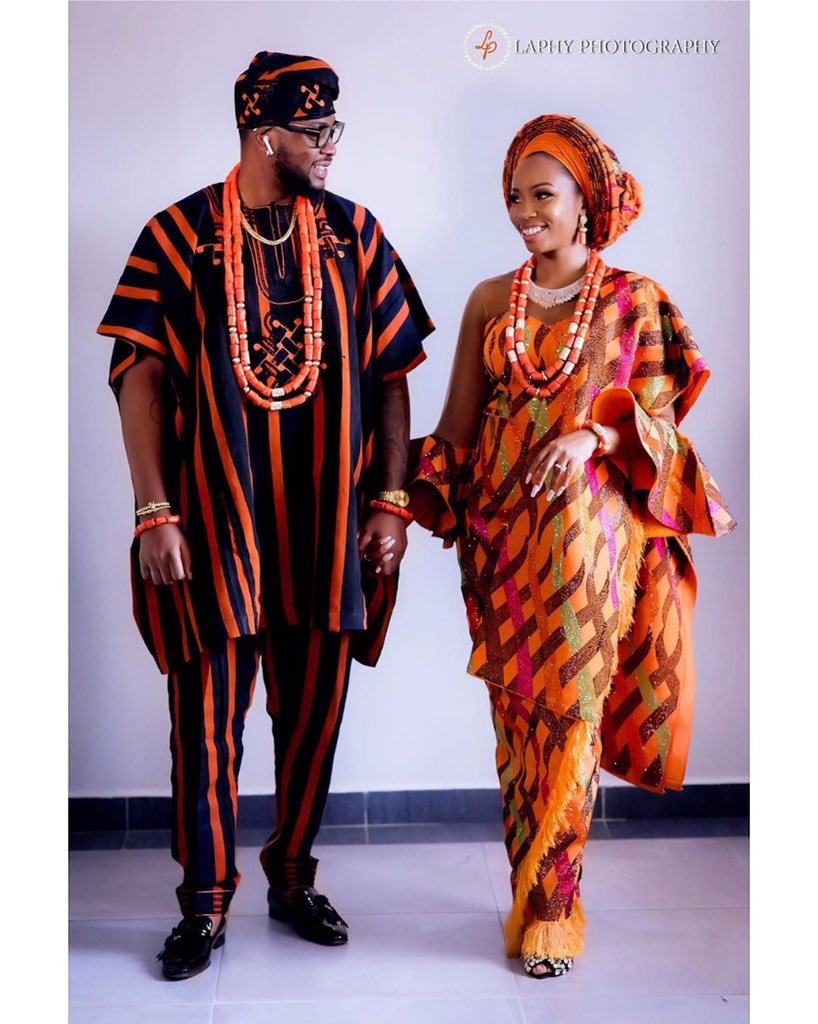 The couple held their traditional engagement earlier today in Ibese, Ilaro in Ogun State – the occasion was graced by close friends and family members including fellow housemates from the BBNaija 'Double Wahala' season including Nina, Ceec, Lolu, Leo Dasilva and others.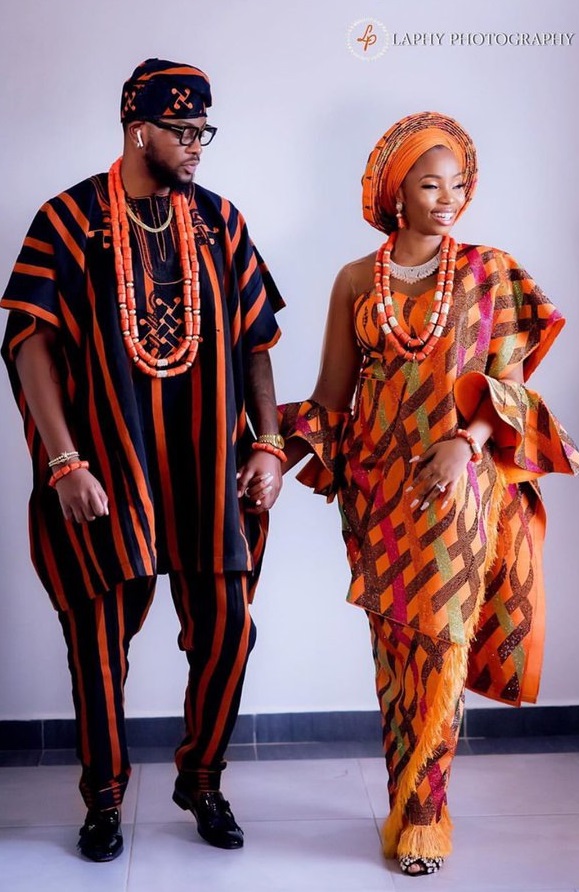 But some people found it rather strange that Teddy A wore an AirPods on his native attire during the ceremony and even took photos with it.
Some have pondered how he can have an AirPods on at his own engagement and his wife seems not to care. While some opined that he might be listening to music, some thought that he might be directing small chops and jollof rice for the ceremony while others believe that having the AirPods on is the rashest to be done at one's wedding because it implies that as you are present in the occasion, you are at the same time not present.
The lovebirds had announced their engagement on Instagram on August 4 of this year.
See some reactions below,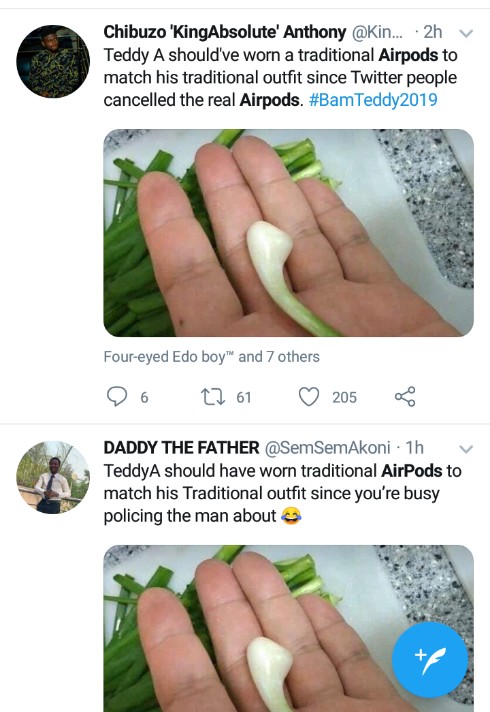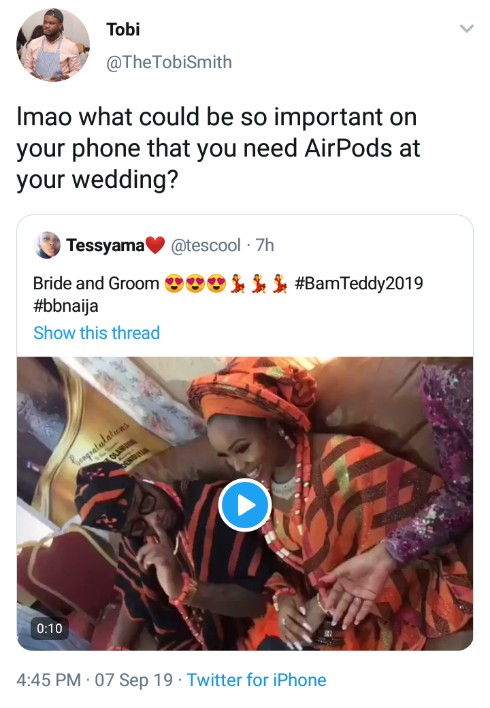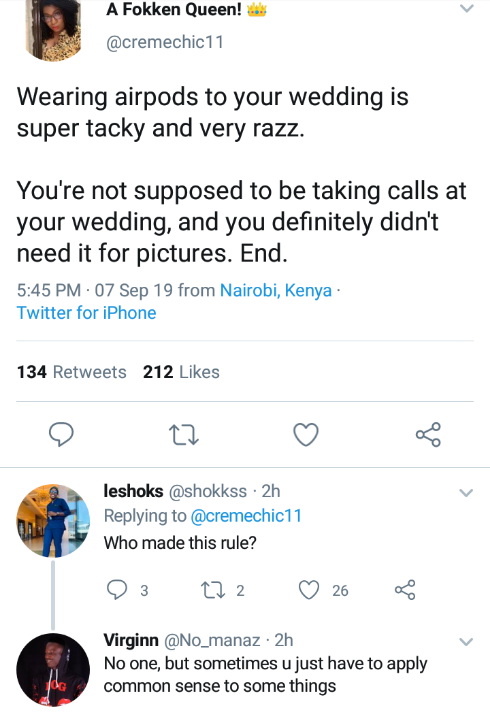 @maniac8989: Y'all slamming Teddy A for wearing Airpods on his wedding. Whose business ? Y'all so jobless that you look for what to talk about? Isn't the country hard enough? Aren't there more pressing issues in life than bother about someone who's having a joyful moment ? Nigerians
@barliqees: Earlier it was BamBam might be marrying the wrong person, now it's Why did Teddy A use Airpods? Y'all are just Angry Birds and you no get joy left in you. Even if he use headphone kilokan yin. If your lover is givin you good good loving you won't be this bitter. Mend your life!
@FBanks7: Outside world is so sweet. See as me and my peeps . Just dy sip our bottles. Gisting and laughing; While some stupid clowns are. Here asking Teddy A why he Was putting on Airpods on His traditional marriage. Loneliness have turned some, People to psychiatric patients; Tueeh
@iamOkon: Teddy A wears Airpods at his wedding and it's a problem?
– His own wedding.
– His Airpods.
– On his own ear.
Someone even complained about it spoiling his pictures? For real? His OWN wedding pictures… is he snapping for your pleasure? Just be happy for people.
@_kwinnnbee: Please what is you people's business that Teddy A is wearing AirPods?? If he wants to wear wedding gown he will wear, It's HIS wedding. Nigerians must complain about everything, Tufiakwa!!
@Valentino_7504: So all of a sudden AirPods are trending because Teddy decides to wear them to his weddingSmh…. The guy is happy leave him the fuck alone. Bitterness everywhere
@IsimaOdeh: I wouldn't wear airpods on my wedding day, but I'm not the one getting married. Teddy A knows why he wore them. I'm not going to get myself worked up over another person's look on his wedding. Problem solved.
@choqlateskynne: If Teddy A decides to use his Airpods and even hang his phone battery on his neck, it's none of your freaking business oooo! On your own wedding day, you can do as you please, biko. #BamTeddy2019
@UMEHoma: First they said Teddy A is using Bam Bam, then he proposes and you said she will become Lord of the rings. Now out of everything it's his airpods that's giving you sleepless nights. Truly, there's no sleep for the wicked.
@OlumideOG: I personally wouldn't wear airpods on my wedding day but if Teddy A wants to wear airpods on his wedding day who are you to say he shouldn't??? You people need to learn to mind the business that pays you and leave people alone.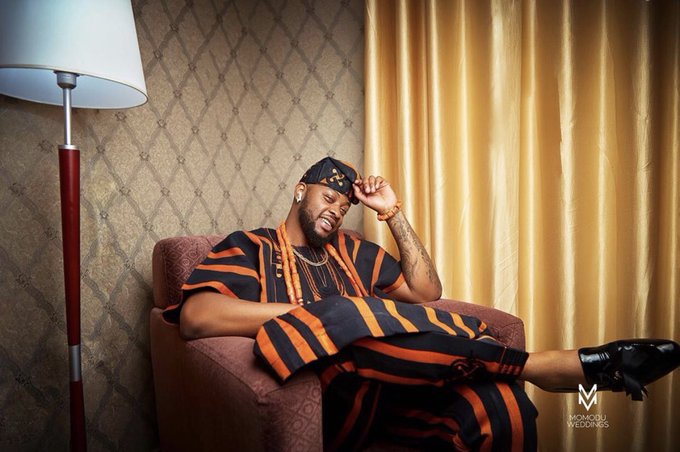 ---
---